There was nothing girly or dainty about this group of hard-rocking female musicians.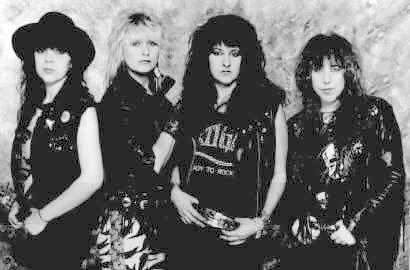 LIKE it or not, rock music has largely been the domain of men. While the number of female singer-songwriters who has entered public consciousness is comparable to that of their male counterparts, the same simply cannot be said when it comes to rock groups, be they acid, punk, glam, metal or grunge.
I have written in the past about one all-girl rock group that made a name for itself and considering that this week marks the first death anniversary of one Kelly Johnson, I thought it was high time I told you about another.
While the Bangles certainly did colour my youth, Girlschool was a band that took me nearly two decades to actually track down and listen to! I first came across the name in a mid-1980s pop magazine (can't remember if it was Number One or Smash Hits!) that did a feature on 20 or so hard-rocking bands like Deep Purple and Black Sabbath. As the only all-female group, naturally Girlschool's belligerent look caught my eye (I believe the ladies were dressed up in school uniform too!). Subsequent years have seen me come across the likes of Bertha, Fanny, The Runaways, The Gogos and Vixen but it was Girlschool that I most wanted to hear…and with good reason.
The original "classic" line-up of guitarists Kim McAuliffe and Johnson, bassist Enid Williams (all three of whom sang lead vocals) and drummer Denise Dufort certainly could rock out.
A South London outfit, Girlschool first made the grade in the late 1970s which meant that like many hard rock bands emerging in the aftermath of the punk explosion, they were dubbed part of the New Wave of British Heavy Metal.