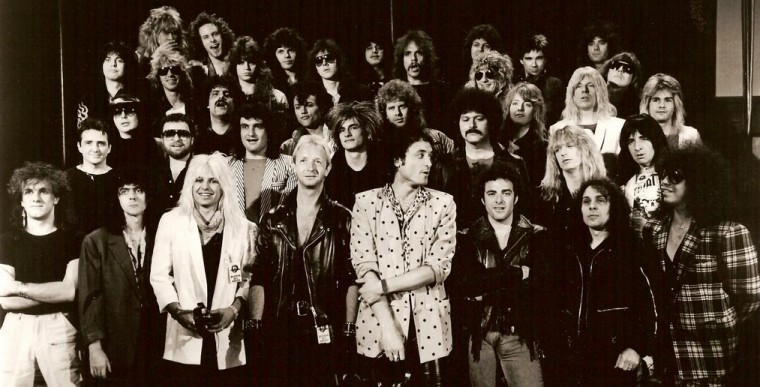 Wendy Dio tells Rolling Stone that she wants to re-release the All-Star 80's metal collaboration put together for charity in the mid 80s by her late husband Ronnie James Dio.
I'm going to rerelease ['Stars'] because it only ever came out on vinyl and cassette. So it'll come out on DVD and CD," she says. "I have loads of outtakes for the video.
The year is 1985 and Dio band members Jimmy Bain and Vivian Campbell want to do a rock charity single to go along with the more pop oriented "We are the World" and "Do They Know it's Christmas". They talk Ronnie into putting together a band and Hear 'N Aid is formed.
The band included many of the top 80's metal artists, including singers Don Dokken, Quiet Riot's Kevin Dubrow, and Rob Halford from Judas Priest.  It also included some killer guitar work with leads by guitarists like George Lynch and Yngwie Malmsteen
The original video for their song "Stars" is below:
[yframe url='http://www.youtube.com/watch?v=xrj5CET4ehE']
Here is the complete list of participants from Wikipedia:
Vocals
Eric Bloom (Blue Öyster Cult)
Ronnie James Dio (Dio)
Don Dokken (Dokken)
Kevin DuBrow (Quiet Riot)
Rob Halford (Judas Priest)
Dave Meniketti (Y&T)
Paul Shortino (Rough Cutt)
Geoff Tate (Queensrÿche)
Backing Vocals
Tommy Aldridge (Ozzy Osbourne)
Dave Alford (Rough Cutt)
Carmine Appice (Vanilla Fudge/King Kobra)
Vinny Appice (Dio)
Jimmy Bain (Dio)
Frankie Banali (Quiet Riot)
Mick Brown (Dokken)
Vivian Campbell (Dio)
Carlos Cavazo (Quiet Riot)
Amir Derakh (Rough Cutt)
Buck Dharma (Blue Öyster Cult)
Brad Gillis (Night Ranger)
Craig Goldy (Giuffria)
Chris Hager (Rough Cutt)
Chris Holmes (W.A.S.P.)
Blackie Lawless (W.A.S.P.)
George Lynch (Dokken)
Yngwie Malmsteen
Mick Mars (Mötley Crüe)
Michael McKean (David St. Hubbins of Spinal Tap)
Vince Neil (Mötley Crüe)
Ted Nugent
Eddie Ojeda (Twisted Sister)
Jeff Pilson (Dokken)
Rudy Sarzo (Quiet Riot)
Claude Schnell (Dio)
Neal Schon (Journey)
Harry Shearer (Derek Smalls of Spinal Tap)
Mark Stein (Vanilla Fudge)
Matt Thorr (Rough Cutt)
Adrian Vandenberg (Whitesnake)
Lead Guitar Solos
Vivian Campbell (Dio)
Carlos Cavazo (Quiet Riot)
Buck Dharma (Blue Öyster Cult)
Brad Gillis (Night Ranger)
Craig Goldy (Giuffria)
George Lynch (Dokken)
Yngwie Malmsteen
Eddie Ojeda (Twisted Sister)
Neal Schon (Journey)
Rhythm Guitar Melody Lines
Dave Murray (Iron Maiden)
Adrian Smith (Iron Maiden)
Bass
Drums
Vinny Appice (Dio)
Frankie Banali (Quiet Riot)
Keyboards